© Gabriel Cassan/Adobe Stock
Ecosystem restoration is pivotal to tackling climate change and species extinction together.
New research finds that restoring 30% of lands that have been converted for farming in priority areas, whilst retaining natural ecosystems, would prevent over 70% of projected extinctions of mammals, birds and amphibians. At the same time, restoring these priority lands would put us on track to sequester almost half of all the CO2 increase in the atmosphere since the Industrial Revolution - more than 465 billion tons.
Restoring just half of these (15% of priority areas) could avoid over 60% of expected extinctions while sequestering 30% of the total CO2 increase.
This finding comes ahead of the UN Decade on Ecosystem Restoration (2021-30), as the global community is encouraged to scale up restoration efforts worldwide to tackle the twin biodiversity and climate crises.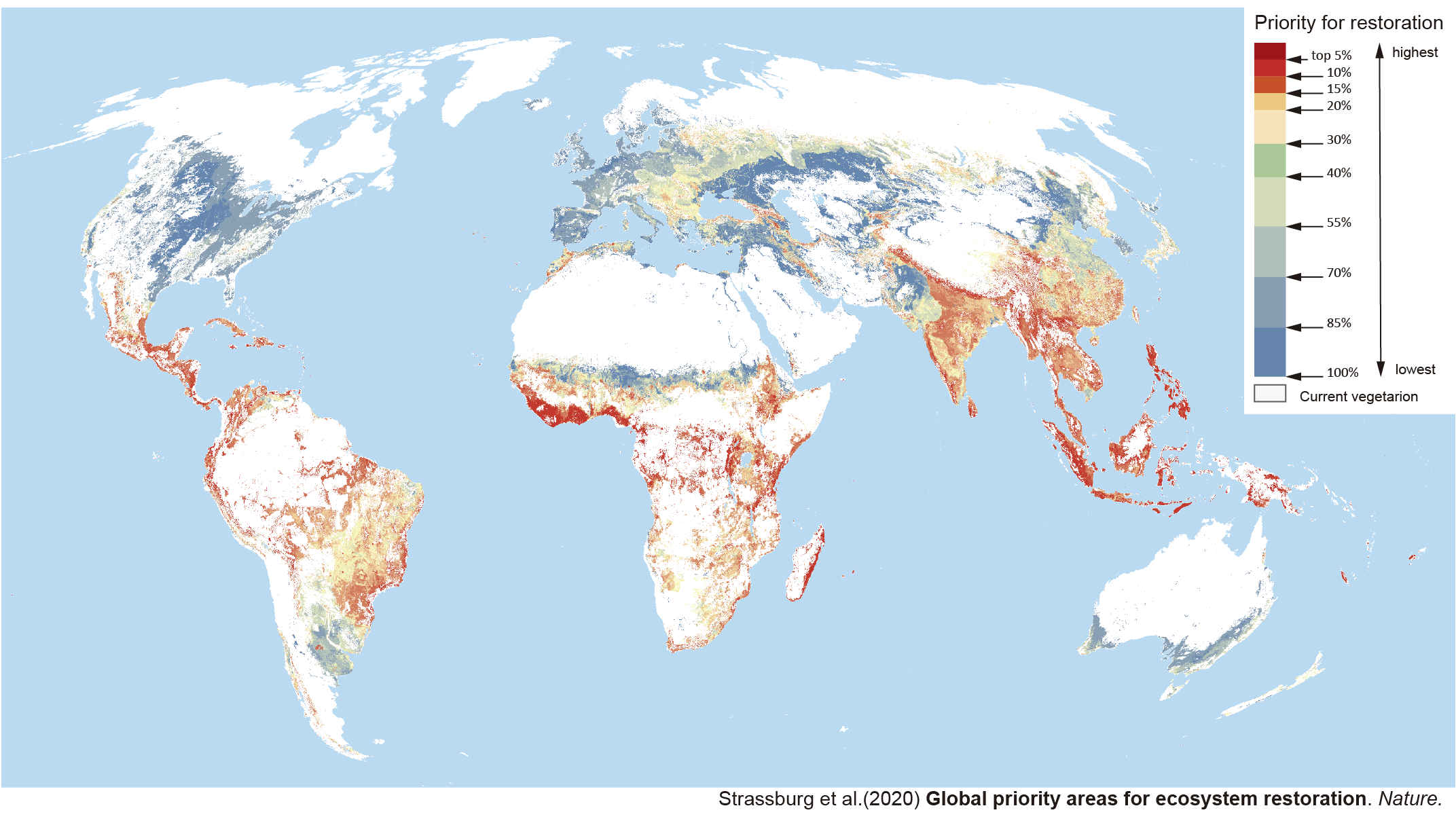 A team of expert scientists have developed a cutting-edge algorithm that prioritises global locations for restoration according to 3 criteria: biodiversity conservation, the mitigation of climate change, and costs. This approach was applied across 1,200 scenarios across all terrestrial biomes. A whole range of scenarios, such as 15% and 5% restoration of converted lands, were also modelled with this method.
At a time when many restoration targets are focused on forests, the evidence demonstrates the importance of restoring many different types of natural ecosystem.
Of the 2,870 million hectares of converted lands identified in this research, it is estimated that 54% were originally forests, 25% grasslands, 14% shrublands, 4% arid lands and 2% wetlands. Wetlands and forest restoration are of the highest relative importance for biodiversity conservation and the mitigation of climate change respectively. The focus shifts to arid ecosystems and grasslands when the goal is to minimise costs. When targeting all three outcomes, all biomes have an important role.
Neville Ash, Director, UN Environment Programme World Conservation Monitoring Centre (UNEP-WCMC), says: "Ecosystem restoration should be at the very heart of global efforts to tackle the nature and climate crises, but needs to be delivered at local scales. The decade ahead is crucial, and this study shows how prioritised restoration efforts are a cost-effective means to maintain our planetary life support system."
This research shows that taking a global approach to restoration planning can deliver more benefits for each hectare restored, demonstrating the importance of international cooperation and collaboration in meeting overarching global targets. The framework used in this analysis is already supporting parties to the Convention on Biological Diversity in exploring targets for a post-2020 global biodiversity framework.
The climate change and biodiversity loss crises are among the greatest faced by humankind, and they are intricately linked. If ecosystem restoration efforts are well-planned and implemented, they could make substantial headway towards addressing these twin crises.
'Global priority areas for ecosystem restoration' is published in Nature. The study is led by PUC-Rio and International Institute for Sustainability, with co-authors including Valerie Kapos and Lera Miles from UNEP-WCMC.