An assessment of water-related climate change adaptation initiatives in Thailand has found that living weirs and re-establishing floodplains can reduce the vulnerability of communities and ecosystems, alongside a range of other benefits. The analysis also revealed potential trade-offs that should be considered in the development of future initiatives to increase resilience to flood and drought, alongside recommendations on how to monitor and evaluate the effectiveness of such projects in the Thai water sector.
Between 2020 and 2022, researchers from five universities in Thailand introduced methodologies to generate evidence and improve knowledge on the benefits of ecosystem-based adaptation (EbA), such as living weirs and floodplains, in the Thai water sector. Their findings highlight the importance of involving local communities so that projects are effectively designed and monitored, the impacts of EbA interventions are better understood, and EbA is adaptively managed in the future.
The researchers worked in partnership with Thailand's Office of the National Water Resources and the German international cooperation agency, Gesellschaft für Internationale Zusammenarbeit (GIZ) GmbH, with technical guidance from the United Nations Environment Programme World Conservation Monitoring Centre (UNEP-WCMC) that included working with the teams to refine their Theories of Change, indicators and data collection methods. The researchers' findings are presented in a report bringing together information on the methods used and the impacts of the two EbA interventions. 
Thailand is highly vulnerable to the impacts of climate change, and between 2000 and 2019 was one of the 10 countries most affected by extreme weather globally, such as floods and droughts. To mitigate these problems, the country plans to use ecosystem-based adaptation. EbA is a type of nature-based solution that uses biodiversity and ecosystem services to help people adapt to climate change. Examples of EbA interventions include restoring degraded wetlands, promoting sustainable forest management practices, and increasing the connectivity of protected areas.
To generate the knowledge needed to deliver EbA at a broader scale in Thailand's water sector, the researchers developed monitoring and evaluation methodologies that assessed the impact of two types of existing EbA interventions:
Natural and semi-natural floodplain areas in the lower Yom river basin in northern Thailand, where certain areas of land are left to form wetlands that soak up water during the wet season and store water during the dry season.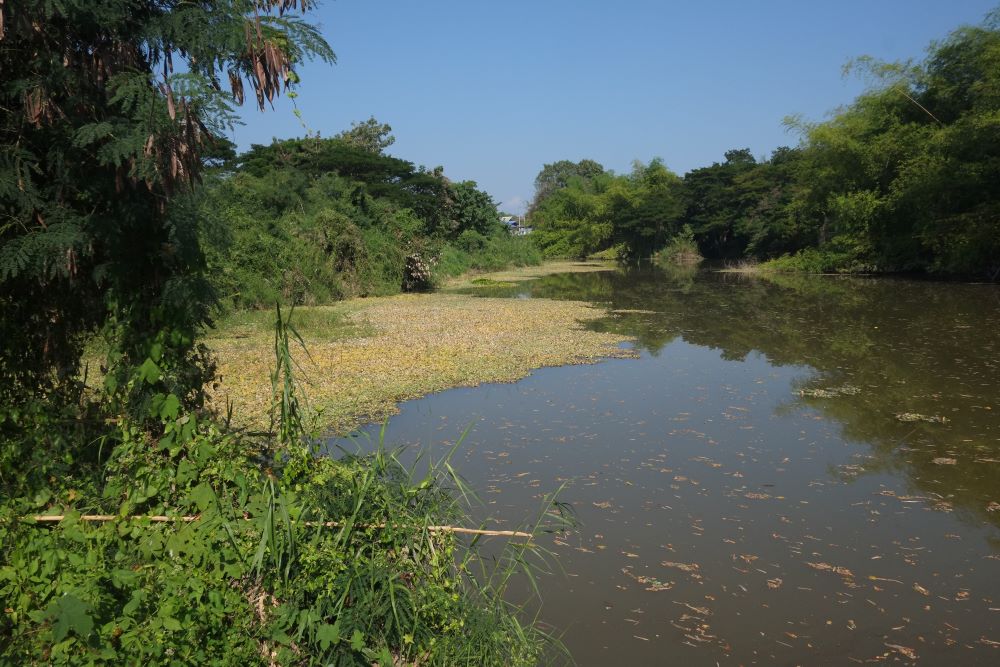 Five 'living weirs' across two pilot sites in southern Thailand, where a bamboo grid is built across a river and filled with natural materials. Trees and plants are used to stabilise riverbanks and grow across the grid, forming a weir that can help retain water during the dry season and slow the stream flow in wet season.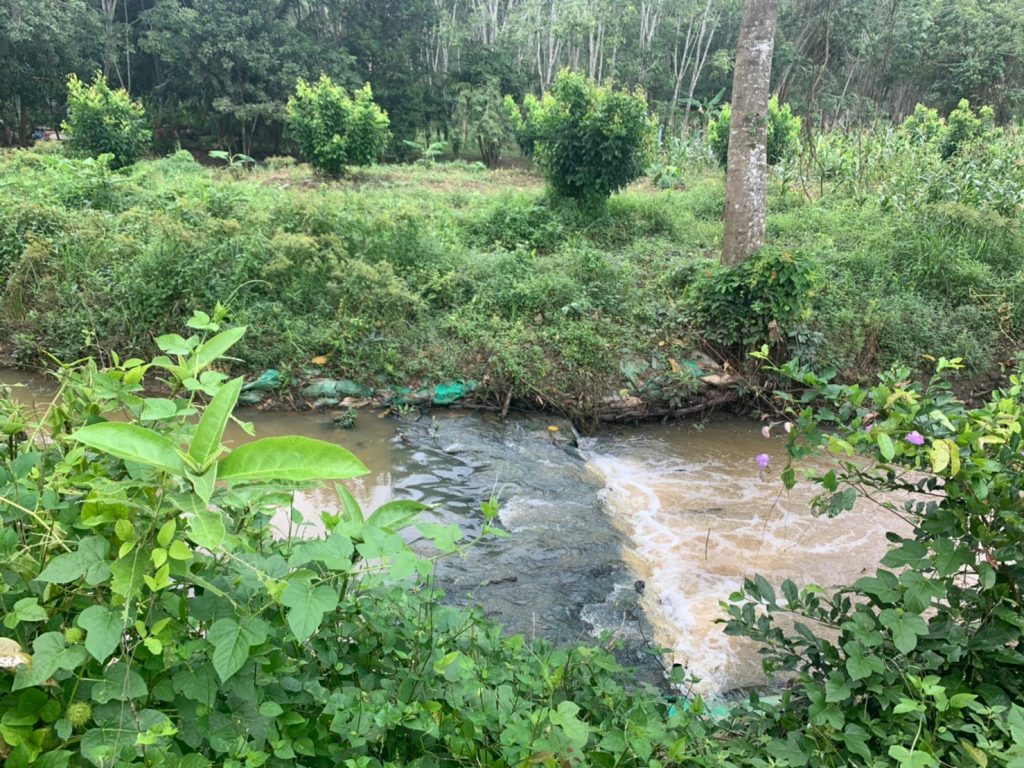 Results show EbA delivers on core goals, with some trade-offs
For both living weirs and floodplains, the researchers found positive impacts for the hydrological system and nearby environment, including evidence they increased soil moisture and recharged groundwater, as well as mitigating the risk of flooding during heavy rainfall.
For living weirs, between 2015 and 2021 the number of households who reported they were not affected by flooding increased from around 40 per cent to nearly 55 per cent. Households who reported periods of no drought increased from 70 per cent to 85 per cent. During this period rainfall during the wet season was above average for some years, while during the dry season it was below average; a longer study period would allow for a better understanding of the potential to mitigate flood and drought impacts.
For floodplains, 70 per cent of survey respondents believed that the EbA intervention was beneficial for the local economy, and 34 per cent said it reduced the risk of disaster.
However, while living weirs were found to have a positive impact on biodiversity by providing habitat for fish, insects and molluscs, some habitat fragmentation was found in the natural and semi-natural floodplains. The natural and semi-natural floodplain site studied in Bang Rakam district uses a flood-detention system, whereby floodwater is diverted away from parts of the natural floodplain. As a result of the floodplain being disconnected from the flood pulse, some unintended social and ecological consequences were identified by researchers.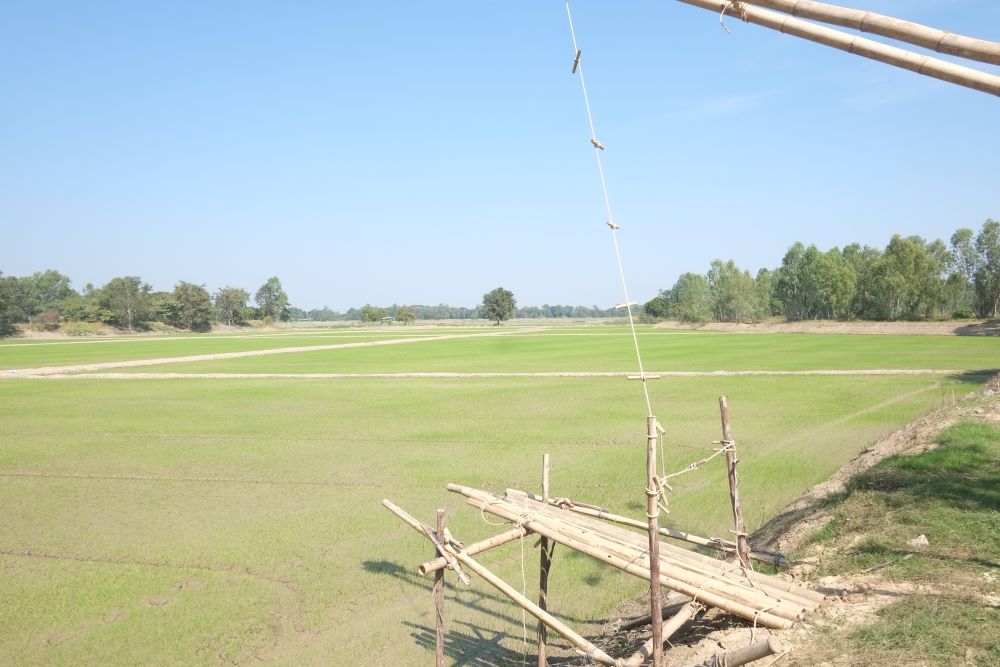 The trade-offs highlighted by the research emphasise the need for robust, participatory design and ongoing monitoring to maximise benefits from EbA initiatives, and minimise the risks of amplifying existing vulnerabilities. In addition to providing important information about the impacts of the EbA interventions, the research generated insights on how to apply certain monitoring and evaluation (M&E) methods; when and where these methods may be most appropriate; and what challenges are involved.
Recommendations include:
Regularly monitoring a wide range of environmental indicators over a longer period
Strengthening the participation of community and measures to support local livelihoods, including compensation for people affected by flooding
Building incentives into the use of digital technologies and apps for M&E
Recognising participatory processes as more than a means to an end
Ecosystem-based adaptation is an important part of plans to build resilience to climate change – particularly for highly vulnerable countries like Thailand and for communities that are experiencing the impacts of climate change already. It's crucial that EbA measures are designed in ways that maximise their effectiveness and benefits for people and the environment, and that we continue to monitor how these measures are performing.

Charlotte Hicks, Senior Technical Officer in UNEP-WCMC's Nature-based Solutions team
Main image: Adobe Stock