During the 14th Meeting of the Conference of the Contracting Parties to the Ramsar Convention on Wetlands (COP14) in 2022, multiple parties emphasised the need for better wetland conservation and restoration to sustain benefits for people and nature. Whether for migratory birds or local communities around the world, wetlands are critical ecosystems. Yet, they are being lost three times faster than forests.
On 2 February World Wetlands Day, UNEP-WCMC takes this opportunity to showcase the importance of peatland ecosystems and how we have worked with partners under the UNEP-led Global Peatlands Initiative to present the first comprehensive assessment on peatlands. This assessment is helping communities from global to local scales better understand this vital wetland ecosystem and scale up actions for its conservation, sustainable management and restoration.
What are peatlands and why do they matter?
Peatlands are a unique type of wetland ecosystem comprising of peat soil formed from partially decayed organic matter and represent incredible diversity ranging from northern bogs and fens to tropical forests and swamps. Despite only covering around 3-4 per cent of the planet's terrestrial surface, peatlands store up to one-third of the world's soil carbon. This is twice as much carbon that can be found in all the world's forest biomass combined, and so conserving and sustainably managing peatlands is critical to efforts to address climate change as well as halt and reverse biodiversity loss. However, about 12 per cent of peatlands have been drained and degraded which contributes to four per cent of annual global human-induced emissions.
The role of peatlands in addressing our planetary crises
Beyond sequestering and storing vast quantities of carbon, peatlands offer a range of valuable benefits and services for human wellbeing. They play a critical role in the water cycle by storing and filtering water, slowing peak flows, and reducing the impact of flooding. They also host unique plants and animals on which millions of people depend, and provide vital information on past environmental conditions within their peat layers that help predict future climate conditions.
Peatland ecosystems can also provide solutions to address the interconnected challenges of biodiversity loss, climate change, food and water insecurity and poverty. By incorporating the conservation, restoration, and sustainable management of peatlands as Nature-based Solutions (NbS), countries can help mitigate climate change, support biodiversity and secure peatland-dependent livelihoods, thereby contributing towards commitments for nature, climate, and people in the Kunming-Montreal Global Biodiversity Framework, Paris Agreement, Land Neutrality Targets and various of the Sustainable Development Goals including 6 (Clean Water), 13 (Climate Action), 15 (Life on land).
The role of peatlands in addressing climate change and biodiversity loss has also been acknowledged in resolutions from the Ramsar Convention on Wetlands (Resolution VIII.17, Resolution XIII.12, Resolution XIII.1)  United Nations Environment Assembly, the International Union for the Conservation of Nature and the Convention on Biological Diversity.
Strong measures to protect, restore and sustainably manage peatlands could be included in Nationally Determined Contributions (NDCs) and Long-Term Strategies under the Paris Agreement. Moreover, these actions on peatlands further safeguard the agreed human right to a clean, healthy, and sustainable environment.
However, while there have been global efforts to conserve and restore peatlands, they have met with limited success. For instance, although 88 per cent of all countries are signatories to the Ramsar Convention on Wetlands, many are yet to develop national peatland policies or plans.
Similarly, with respect to countries' submissions of NDCs to address climate change, peatlands remain largely underrepresented, with only 13 per cent of parties including peatlands in their NDCs. Typical challenges include lack of information on the characteristics, location, extent, and condition of peatlands, further coupled by lack of awareness of peatlands' prevalence, lack of policies and resources to conserve, restore and sustainably manage them.
How will the Global Peatlands Assessment help the conservation, restoration, and sustainable management of peatlands?
To address the gap in research and science behind understanding peatland ecosystems, the UN Environment Programme-led Global Peatlands Initiative (GPI), guided and coordinated by UNEP, UNEP-WCMC, FAO, Greisfwald Mire Centre, and the Ramsar Secretariat, along with a group of 226 global peatland experts have developed the Global Peatlands Assessment (GPA): The State of the World's Peatlands. The GPA – launched last year at COP27 in Egypt - is the most comprehensive assessment of peatlands to-date, and provides an improved understanding of what peatlands are, where they are found, their current conditions, and what kind of actions can be incorporated to protect, restore, and sustainably manage them.
The GPA reveals that peatlands are being degraded globally, mainly due to agricultural expansions, forestry, overgrazing of livestock, and infrastructural development. About 2,000 Mt of carbon dioxide equivalent of greenhouse gases are currently being emitted by degraded peatlands, which contributes to about 4% of all anthropogenic emissions. The situation is worsened by climate change as higher temperatures and unpredictable rainfall patterns dry the peatlands, making them more vulnerable to fires. Urgent actions are needed to protect 88% of the world's peatlands that have not been significantly degraded or drained. The assessment states that by conservation and restoration of tropical peatlands alone can bring down global GHG emissions by 800 Mt CO2e/year, which is approximately 2 per cent of the current annual global emissions.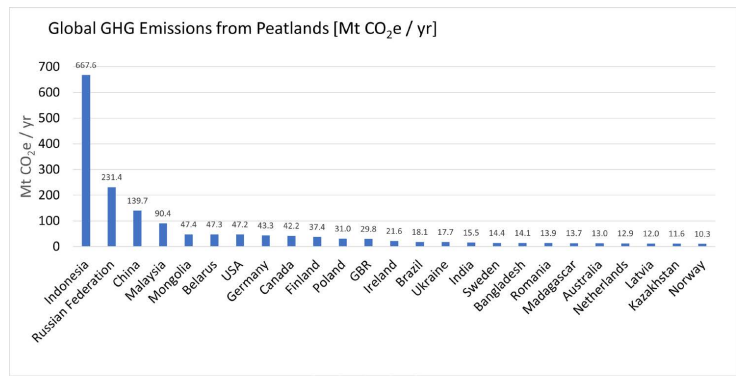 The GPA offers valuable baseline for improvement against future assessments and poses as a guide to countries and decision-makers to advance sustainable peatland management by bridging knowledge gaps and improving mapping, monitoring, and reporting efforts and integrating actions to safeguarding peatlands into national climate and land-use decision-making strategies.

The GPA assessment draws on the Global Peatland Map v2, which was enhanced during the assessment process, and includes several newly recognised peatlands. The mapping work continues as there are still significant knowledge gaps around the extent and condition of peatlands in many parts of the world, particularly in Africa, Amazonia, and the far north. The map further reveals that the majority of the world's peatlands can be found in:
Asia (33 per cent),
North America (32 per cent),
Latin America and the Caribbean (13 per cent),
Europe (12 per cent), and
Africa (8 per cent)
The remaining 2 per cent of peatlands are spread between Oceania and Sub-Antarctic Islands.
The assessment shows where peatland degradation is extensive and should be seen as both a priority and an opportunity to restore these systems and regain their functioning. At the same time, it collates examples of successful initiatives of peatlands' restoration across the world. One of the examples noted in the assessment is the Peatland Action Programme, a project funded since 2013 in Scotland, which has helped with the restoration of over 25,000 hectares of peatlands. With an aim of restoring 250,000 hectares by 2030, the Scottish peatland restoration targets are further supported by an investment of GBP 250 million for a period of 10 years. England's Peat Action Plan (2021) is a recent initiative aligned with the government's initial stages of the 25-year environmental plan, with a goal of funding at least 35,000 hectares of peatland restoration by 2025.
Another example of peatland restoration initiative highlighted in the assessment includes the Katingan Peatland Restoration and Conservation Project in Indonesia, Asia. The project is protecting and restoring 149,800 hectares of peatland ecosystems and is also providing an opportunity for local communities to benefit from sustainable sources of income while contributing to climate change mitigation measures. The restoration project is speculated to reduce around 10 Mt CO2e per year to the atmosphere and aims to bring direct benefits to local communities by promoting livelihood choices to the most vulnerable groups, including women, the poor, people with disabilities, and the elderly.
The GPI hopes to build on this collaboration through future updates of the assessment and its wider work, ensuring the involvement of different stakeholder groups in peatland protection, such as policy makers, Indigenous Peoples and Local Communities' representatives, women, and the private sector.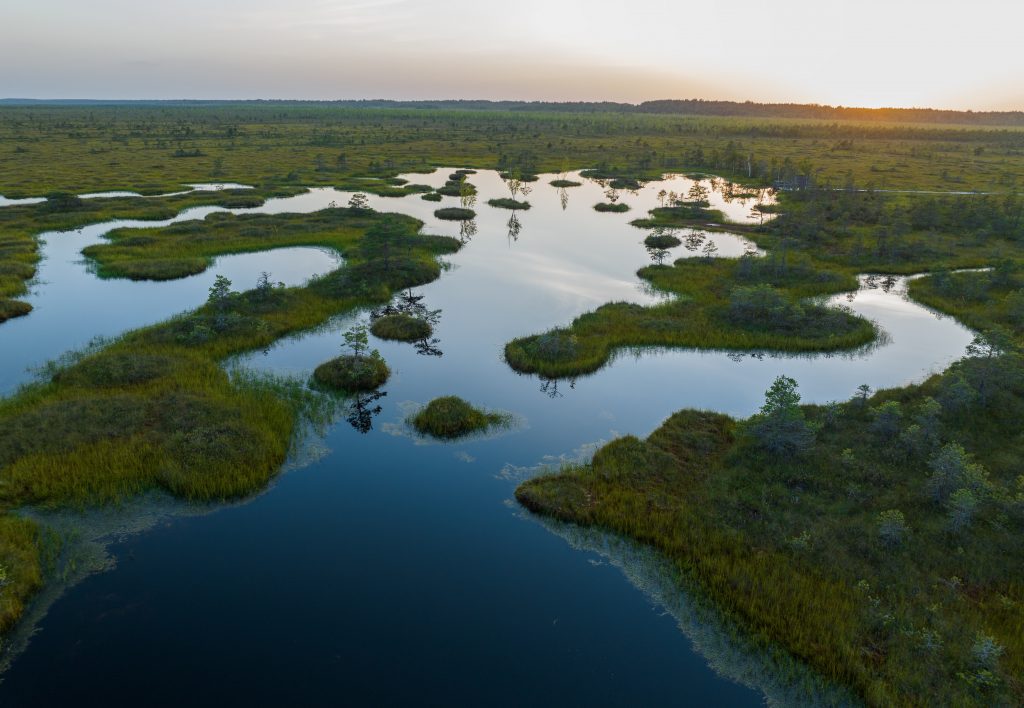 Contributing to peatland conservation and restoration, UNEP-WCMC is also supporting the CongoPEAT project, a peatland conservation programme underway in the Republic of Congo and the Democratic Republic of the Congo, to scale up the scientific knowledge of peatlands and enable peatlands to be incorporated as part of national policies. In the GEF-funded Congo Impact Program (IP), which aims to promote transformational change in sustainable forest management in some of the Congo Basin's transboundary landscapes, UNEP-WCMC is working with the US Forest Service to strengthen on the ground capacities for integrated land-use management planning processes in the region, some of them including peatland and other wetland dominated landscapes.
On this World Wetlands Day, and in recognizing the value and importance of peatland ecosystems, we plan that our work on peatlands will help fill knowledge gaps, inform the development of national policies relating to peatland ecosystems, and drive momentum to conserve, sustainably manage and restore these critical ecosystems as part of international efforts to address the climate and biodiversity crises.