New research finds that 25% of Europe's peatlands are degraded, increasing to 50% -120,000km2- when looking at the European Union alone.  In more than half of Europe's natural peatland (mire) regions, the Convention on Biological Diversity 2020 target for at least 17% of areas to be protected has not yet been met for peatlands.
Scientists from the Greifswald Mire Centre, the UN Environment Programme World Conservation Monitoring Centre (UNEP-WCMC), and from several European countries have teamed up to analyse the condition and protection status of European mire ecosystems in research published in Diversity.
Peatlands are vital habitats and store vast stocks of carbon; they have a crucial role in addressing the twin climate and biodiversity crises. In an intact peatland, carbon stores slowly accumulate, but when these ecosystems are degraded by drainage, fire or other pressures, they become a significant source of greenhouse gas emissions.
Europe is the continent with the largest proportional loss of mires, because of its long history, high population pressure, and conversion to agriculture.
The European countries with the highest proportion of degraded peatland (91%–100%) are Albania, Croatia, Cyprus, Denmark, Germany, Luxembourg, the Netherlands, Portugal, Republic of Macedonia, and Slovenia. Countries and areas with the most intact peatlands (less than 20% degraded) are Andorra, Armenia, Azerbaijan, Bosnia-Herzegovina, Faroe Islands, Norway, and Svalbard.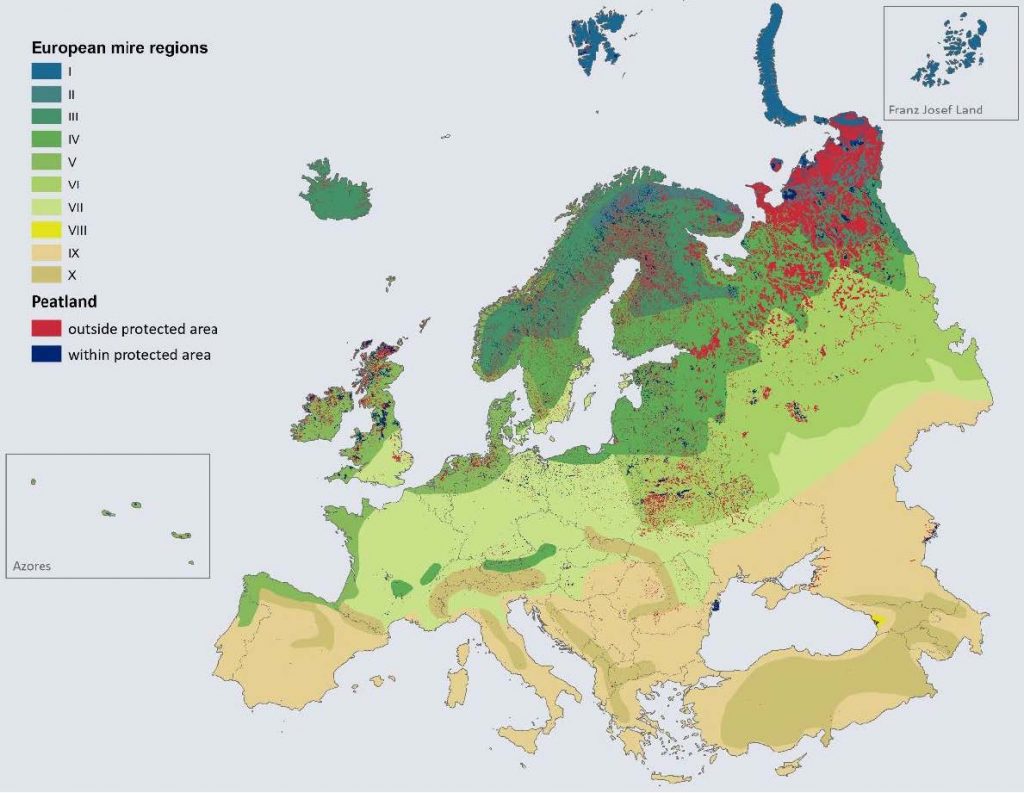 Franziska Tanneberger, lead author of the study at Greifswald Mire Centre, underlines: "Peatlands still suffer from the 'Cinderella effect'. Whether in the inventory reporting to the climate convention (UNFCCC) or in biodiversity assessment, the area and importance of peatlands is very often underestimated. The reason is simply that we now perceive drained peatlands as grassland, cropland or forest land. Therefore, it is great that we have been able to carry out such an analysis in partnership with UNEP-WCMC".
The authors also found a large variety in the proportion of peatlands included in protected areas across Europe. Less than 25% are included in Albania, Azerbaijan, Belarus, Faroe Islands, Finland, Iceland, Republic of Macedonia, Republic of Moldova, Norway, Sweden, Turkey and Ukraine. More than 95% of national peatlands are within protected areas in Bulgaria, Cyprus, and Denmark.
This analysis comes just ahead of the UN Climate summit in Glasgow and as preparations continue towards agreeing a new post-2020 global biodiversity framework under the Convention on Biological Diversity.
Lera Miles, co-author of the paper at UNEP-WCMC, says: "Protecting and restoring peatlands is key to achieving global goals on tackling the twin crises of climate change and biodiversity loss.  Improving our understanding of where peatlands are degraded, and where they are protected is key to ensuring that conservation action is targeted and effective. Even in some protected areas, degraded peatlands may need to be restored."
Dianna Kopansky, Global Peatlands Coordinator from UNEP echoes these important findings: "A lack of understanding of peatlands' vital role in the European landscape, combined with outdated policies and perverse incentives, means that peatlands continue to be drained and damaged. Peatlands are our largest terrestrial organic carbon stock, and if we are to meet our global goals and commitments, we must work hard to understand, protect, restore, and sustainably manage these vital ecosystems, including across Europe."
This important analysis will feed into the Global Peatlands Initiative's Global Peatland Assessment, which is currently under preparation and coordinated by UNEP-WCMC, UN Environment Programme, the Food and Agriculture Organization of the United Nations, the Ramsar Convention on Wetlands and the Greifswald Mire Centre.
Mires in Europe—Regional Diversity, Condition and Protection is published in Diversity on the 16th of August 2021. https://doi.org/ 10.3390/d13080381  
___________________________
This is part of the Global Peat Press Project (GP3) campaign, bringing together international partners to highlight the importance of peatlands as vulnerable but valuable ecosystems. It is a coordinated media campaign from the UNEP's Global Peatlands Initiative (GPI) and the North Pennines AONB Partnership to promote the UN Decade on Ecosystem Restoration (2021-2030) and toward the UNFCCC COP 26 through the work of organisations throughout Europe and beyond.
A relay of stories from peatland projects worldwide started with the UK as the host of the upcoming United Nations Climate Change Conference, COP26, taking place in Glasgow in November. The relay has already featured the North Pennines AONB, the Care-Peat project in Belgium, NUI Galway, five EU transnational projects (Carbon Connects, Care-Peat, DESIRE, LIFE Peat Restore, and CANAPE), Bax & Company who straddle the UK, Spain and The Netherlands, The Lancashire Wildlife Trust, The GPI and EUROSITE Peatlands Social Media Campaign, NABU, Moors for the Future Partnership, Metsähallitus with its Hydrology LIFE Project, Natural Resources Wales and the LIFE Welsh Raised Bogs Project, Community Wetlands Forum and Landscape Finance Lab, Geospatial Insight-Terra Motion, Green Restoration Ireland Coop (GRI), a major restoration effort in Belarus recognized by the Ministry of Natural Resources and Environmental Protection of the Republic of Belarus, Ulster Wildlife, and now the baton has again landed in the UK.
 Join us - share, learn, inspire, experience and act for peatlands, people and the planet. Follow and share using #PeatlandsMatter and #GenerationRestoration